2017 IKC CHAMPIONSHIP SHOWS

ICP Site News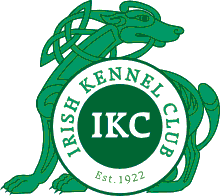 A delegation from the Irish Kennel Club, headed by President Sean Delmar, recently presented An Taoiseach, Enda Kenny T.D., with 'Collins, The Canine Connection' the first of a specially commissioned limited edition collage commemorating the involvement of Michael Collins in canine pursuits. Other members of the delegation were IKC CEO Kieran Moloney, IKC Secretary, Marion Campbell, and Rita McCarry-Beattie, Chairman of the IKC Board of Directors.
The Taoiseach was delighted to have the opportunity to examine items of such personal significance connected to a lesser known activity of Michael Collins, a figure central to the Decade of Centenaries, who exhibited at the first dog show held in Ireland outside the auspices of the Kennel Club, London on St. Patrick's Day 1921.
In November, with the support of Fáilte Ireland, the Irish Kennel Club is presenting a bid to host the World Dog Show in 2021, to mark its centenary.
Photographs by Patrick Fortune


Just a few weeks after winning the Irish Champion of Champions in Dublin Sally Burns handled her Toy Poodle, Ch Grayco Poetic Image, to top the Northern Ireland Working, Pastoral, Utility Dog of the Year 2016, under Utility & Working specialist, June Wall of the Everready Rottweilers and Standard Poodles. 'Madge' is co-owned by Sally, Mary Coghlan and breeder, Lesley Howard. Runner-up was the Chow Chow, Olive Taylor's Belarusian import, Ch Chivas Royal Djalo at Taylorian, 'Boris' an IKC multi group winner in Ireland.

Winner of the N I WPU Pup of the Year was Ashleigh and Rebecca Drysdale and Terry Griffin's Chow Chow, Kwaiang Khol Lat At Szechwan, handled by Ashleigh, 'Kitty Kat' still a baby of just 13 months, with Gillian and Carol Gibson's Shih Tzu, 20 months old Ch Shihdances Georgio Regale at Virtulvilage Jun Ch, runner-up.
The event was hosted, as ever, by Lisburn & District CC, with Secretary, Heather Salmon-Wilson and husband, Ian, in the driving seats, and was sponsored by HAPPY DOG, represented on the day by Jackie Stubbs.